... children of the earth, spanish comtois peasants ...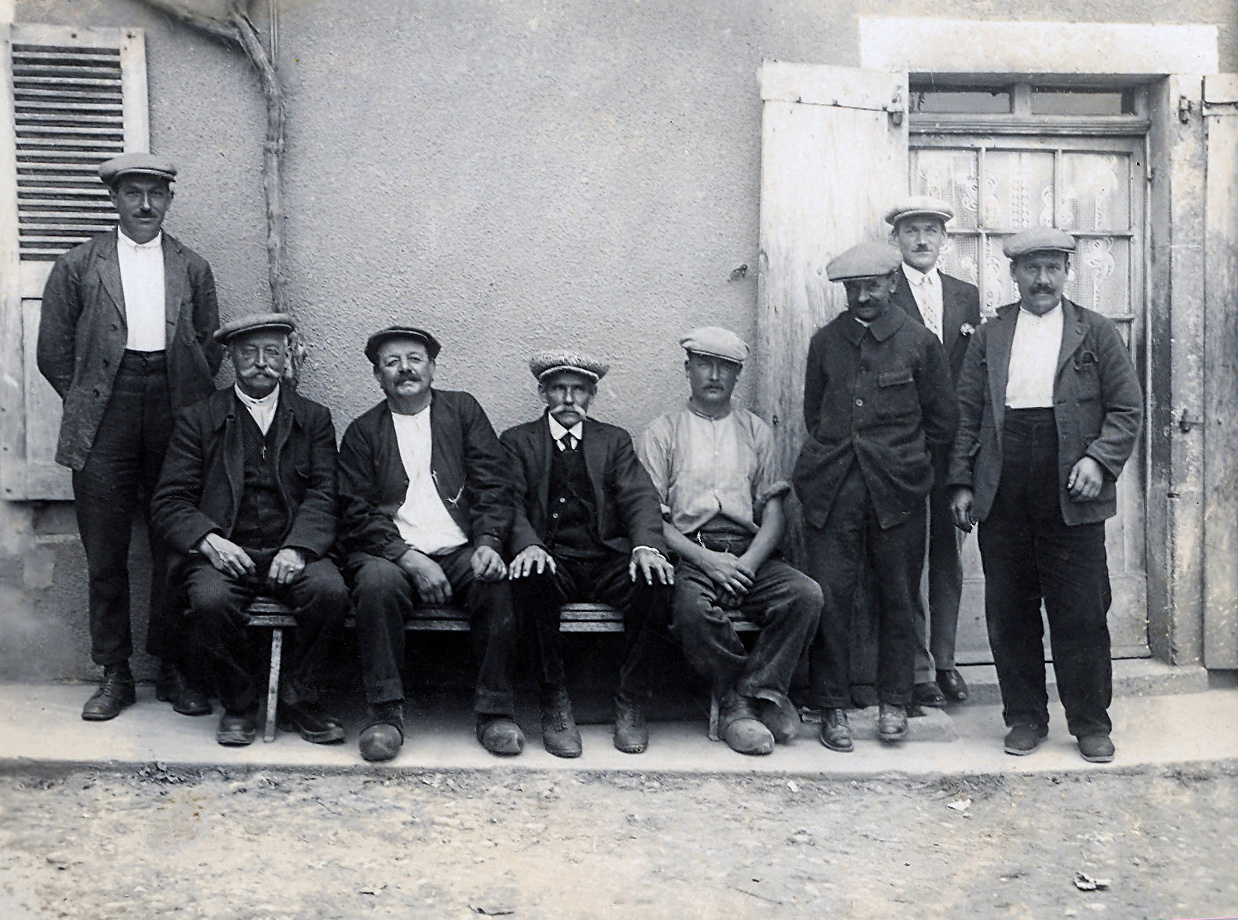 Brainans, Jura, Franche-Comté, France
This site would be a tribute to our ancestors of Brainans, children of the land, Spanish Comtois peasants. They are the ones who shaped our village and who left it to us as a legacy.
Brainans is a small village located on the edge of the Golden Triangle, near Poligny in the Jura.
The genealogical works include all the acts of the parish registers from 1732 to 1773 and the civil status from 1774 to 1937. They are enriched with information on the content of the parish registers of Bersaillin from 1655 and documents found in the departmental archives notably those of Jura in Lons-le-Saunier (minutes of notaries from the 16th, 17th and early 18th centuries, archives of the bailiwicks of Poligny and Dole, censors, clergy and justice archives, etc.) and also regularly supplemented by the data provided by Internet users on shared sites.
If by chance, you detect some errors, we apologize and thank you for reporting them.
We also thank any visitor who will kindly provide us with additional information or photos of individuals in order to enrich the database.
In the context of respect for private life and in order to comply with the regulations in force, information on contemporaries is deliberately hidden from visitors.
Des hommes d'exception !
                                       Né le 30 octobre 1773 à Monay (Jura)
Capitaine d'Infanterie
Général d'Empire
Maréchal de Camp des Armées du Roy
Commandeur de l'Ordre Royal de la Légion d'Honneur
Chevalier de l'Ordre Militaire de Saint-Louis
Voir WIKIPEDIA : https://fr.wikipedia.org/wiki/Jean-François_Rome
---
                                       Né le 7 janvier 1767 à Poligny (Jura)
Lieutenant Colonel d'Infanterie
Général de Division
Baron de l'Empire
Commandeur de l'Ordre Royal de la Légion d'Honneur
Chevalier de l'Ordre Militaire de Saint-Louis
Voir WIKIPEDIA : https://fr.wikipedia.org/wiki/Jean-Pierre_Travot
DUMONT et DUMOND...
Historique de l'orthographe des patronymes DUMONT et DUMOND : Tous les DUMONT, DUMON et DUMOND ont pour ancêtre commun Antoine DUMONT qui est venu s'installer à Brainans dans la deuxième moitié du 16e siècle. Nous n'avons pas encore trouvé d'où il pouvait être originaire. Il a fondé une dynastie forte de plus de 1000 individus présents dans cette généalogie. Au milieu du 17e siècle un de ses petits-fils François DUMONT, né à Brainans vers 1610, a émigré au Bouchaud après un court passage à Bersaillin avec ses enfants majeurs Claude, François, Antoine et Françoise, nous ne connaissons toujours pas le nom de son épouse. Dès lors, les prêtres successifs ont orthographié le patronyme DUMONT avec un "D" dans tous les actes enregistrés dans les registres paroissiaux pour les individus du Bouchaud, les notaires ont également repris cette nouvelle orthographe DUMOND. Pendant une courte période au début du 19e siècle il a même été orthographié DUMON dans l'état civil du Bouchaud. Il est remarquable de constater aujourd'hui que les individus DUMONT et DUMOND sont convaincus d'appartenir a deux familles totalement différentes et mettent un point d'honneur à se différentier par l'orthographe de leurs patronymes sans savoir qu'ils ont tous la même trace dans leur ADN !
News
Parenté
"Parenté" une fonction très utilisée par les visiteurs car, rappelez-vous, nous sommes tous cousins.
Le menu "Diagrammes/Parenté" vous donne la possibilité en quelques clics de retrouver le lien de parenté entre deux individus. Vous faites une recherche pour chaque personne dont vous voulez trouver le lien par le nom ou le numéro d'individu.
Bienvenue
Les informations généalogiques de ce site sont propulsées par webtrees. Cette page fournit une introduction et un aperçu de cette généalogie.
Pour commencer à travailler avec les données, faites un choix dans le menu "Listes", sélectionnez "Individus" ou "Lieux", ou menu "Recherche" pour un nom.
Nous vous remercions de votre visite.
Top 40 given names
Males
Given names

| Given name | Individuals |
| --- | --- |
| Claude | 2,071 |
| Jean | 1,748 |
| François | 1,326 |
| Pierre | 743 |
| Joseph | 730 |
| Louis | 504 |
| Denis | 384 |
| Antoine | 359 |
| Marie | 359 |
| Charles | 329 |
| Baptiste | 251 |
| Etienne | 207 |
| Henri | 161 |
| Jacques | 158 |
| Auguste | 145 |
| Jules | 109 |
| Philibert | 107 |
| Nicolas | 107 |
| André | 106 |
| Paul | 105 |
| Eugène | 103 |
| Désiré | 103 |
| Léon | 102 |
| Emile | 100 |
| Marcel | 96 |
| Mort-Né | 93 |
| Emmanuel | 91 |
| Anathoile | 91 |
| Xavier | 91 |
| Georges | 86 |
| Michel | 84 |
| Victor | 65 |
| Bernard | 63 |
| Albert | 63 |
| Simon | 63 |
| Philippe | 60 |
| Félix | 57 |
| René | 57 |
| Augustin | 55 |
| Alfred | 55 |
Females
Given names

| Given name | Individuals |
| --- | --- |
| Marie | 2,496 |
| Jeanne | 1,688 |
| Françoise | 930 |
| Claudine | 678 |
| Anne | 539 |
| Claude | 461 |
| Louise | 427 |
| Denise | 315 |
| Joséphine | 258 |
| Marguerite | 224 |
| Claudia | 214 |
| Pierrette | 206 |
| Catherine | 155 |
| Josephte | 114 |
| Thérèse | 110 |
| Baptiste | 104 |
| Reine | 102 |
| Eugénie | 100 |
| Barbe | 100 |
| Charlotte | 94 |
| Antoinette | 94 |
| Augustine | 90 |
| Colette | 82 |
| Etiennette | 82 |
| Henriette | 80 |
| Josephe | 74 |
| Appoline | 73 |
| Clauda | 67 |
| Marthe | 65 |
| Madeleine | 65 |
| Rose | 63 |
| Antoine | 58 |
| Berthe | 56 |
| Huguette | 56 |
| Julie | 55 |
| Félicie | 54 |
| Mort-Née | 53 |
| Lucie | 50 |
| Simone | 50 |
| Rosalie | 50 |